The past few posts have dealt with a variety of female rock musicians, so I though I would continue the trend by introducing a prolific Taiwanese artist who I've worked with since opening Pacifiction Record and a new CD of hers that I have been meaning to stock for a while now. You might recall Wan Ting from her surrealist electro project Varo, well, I'm proud to introduce her latest CD release with the math rock/post-punk/post-rock band Tin Pan Alley, Needing Dimensions! Below you can read a short outline of Wan Tings career highlighting her musical contributions to the Taiwanese underground scene.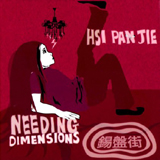 For the past fifteen years or so, guitarist and producer Wan Ting Huang has been piercing diverse spheres of music and developing her unmistakable tremolo reeving solos to become a veritable Taiwanese indie rock icon. She started her career in the seminal girl punk band Ladybug which was know for its angsty lyrics, yet artistically charged compositions. For more about Ladybug and their exploits, read this article on Island of Sound:
After quitting Ladybug, Wan Ting enrolled at Columbia College in Chicago to study sound engineering. At the same time as the post-rock phase was reaching its height in Taiwan, she was being exposed to a wider range of music including jazz fusion. Wan Ting was also taking good notes in order to bring proper underground recording techniques back to Taiwan.
On her return, she tested the waters with a solo record entitled Sedaris and then formed Tin Pan Alley with Xiao Bai, a member of a prominent local post-rock outfit Sugar Plum Ferry and set to putting her new-found knowledge to work. The result was their first lo-fi recording Entering Another Tunnel which became a sensation in underground circles and broadened the horizons for post-rock with its use of loungy saxophone and math rock rhythms. Read more about Tin Pan Alley here:
Next, Wan Ting took her career a step further by forming her own label 7 Inch Vinyl Records and released a couple local indie bands including the Japanese/Taiwanese combination shoegazer group SMOL and her new indie-electronica unit Varo. Read more about 7" Vinyl Records here:
With Varo, Wan Ting applied much of the same stylized tremolo picking techniques, but this time to laptop-generated loops and beats. Taking influence from the surrealism of painter Remedios Varo, she juxtaposed sight and sound by creating songs named after her favorite indie films, almost like alternate soundtracks, but still with an electro/pop song structure. Varo most recently received a reboot and remix album by the Japanese label Rejectone Records, which I might try to stock for Pacifiction if I get some requests. Read more about Varo here: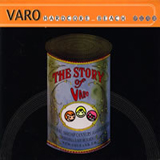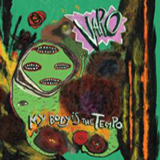 Since the 2006 release of
My Body is the Temp
, Wan Ting has continued to write new Varo material as well as releasing a new Tin Pan Alley album while reviving old friendships along the way.
For example, she has also recently toyed with Chug D Lash, a collaboration with former Ladubug vocalist Mei. Always weaving in and out of the fabric of the past, present and future of Taiwan's underground scene, Wan Ting's discography is also awakening interest in the global community of experimental music listeners.
Please visit The Far East Audio Review for an informative interview with Wan Ting!
http://www.fareastaudio.com/archives/05/06/taiwan_chronicle_4_coffee_with_wanting_huang_by_news.php